Your experts in all things bat removal, including remediation, disinfecting, feces removal and bat proofing.
Contrary to common belief, bats do not just reside in caves. In fact, they can be found in plenty of areas of the world where there aren't any caves at all. Bats are industrious at finding a good place to sleep and breed, and the attic of a Charlotte, North Carolina home or business is pretty tempting. It might not be a bad thing to have a few flying around your neighborhood, as they are marvelous for controlling insect populations, but you certainly do not want them to come indoors.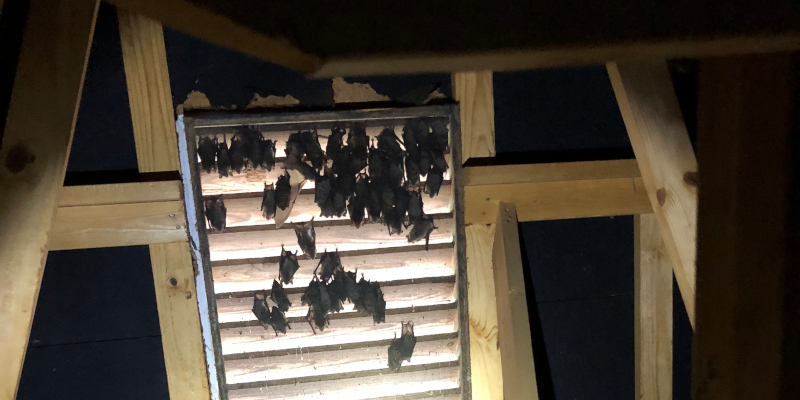 At A-1 Wildlife Control, we offer bat removal services that are done in accordance with North Carolina regulations. The good news is that bats are mostly harmless. There will be more of a mess to clean up if they are left alone for a while, but that's part of our bat removal process.
Working with and following the wildlife commission, we know exactly when and how to remove bats – even during mating season! When and how to remove bats is commonly mistaken, as there are specific rules that need to followed in order to preserve and properly remove these pesky critters.
Being in the first ever certification class in 1995, Allen has educated his team and countless customers on how to get the job done effectively, efficiently and properly the first time, and keep them out for good!
What you need to know about bat mating season and removal:
There is a 5 week cycle from when the volant (baby) bats rely on their mother solely to provide and bring food. After this 5 week period, they are no longer reliant on their mother, can fly and in turn can then be safely removed and relocated.
Bat colonies that contain only males are not impacted during mating season and can be successfully removed and relocated safely at any time
If there are no volant (baby) bats in the colony, it is safe to remove and relocate the bats at any time.
We will ALWAYS do a thorough inspection before removal of any critter to ensure the best and safest removal possible – for both you and them!
With over 30 years experience, we are confident in our techniques and can solve your infestation problems. Call us today!
The typical method for bat removal is to place a one-way apparatus at the opening so that when the bats leave at night to feed, they won't be able to return. Once all the bats are safely out, we'll seal up the opening, and the bats will find a new place to live. This process is more of a bat eviction than bat removal, but it is the most compassionate way to deal with them.
If you would like to learn more about bat removal or schedule an appointment to deal with a bat issue at your residential or commercial property, don't hesitate to contact us. Give us a call or use our online contact form, and we will get back with you.
---
At A-1 Wildlife Control, we offer bat removal services for customers in Charlotte, Matthews, Dallas, Mint Hill, Huntersville, Indian Trail, Cornelius, Concord, Gastonia, Kannapolis, Monroe, Belmont, Kings Mountain, Pineville, Waxhaw, and Midland, North Carolina and Clover, Fort Mill, Tega Cay, Chester, Lancaster, York, and Rock Hill, South Carolina.
Great and professional service
"Had A-1 Wildlife Control come out today — great and professional service by Chris Shomo, a.k.a. in our home "BATMAN". He was courteous and friendly. Thorough inspections and reasonable prices. I would recommend them to anyone with wildlife problems."
★★★★★ Patti R.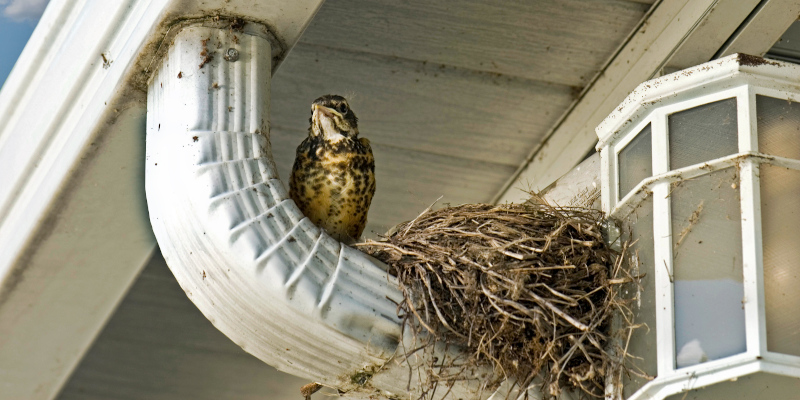 Animal Prevention
We'll help you make your property less susceptible to wildlife invasions.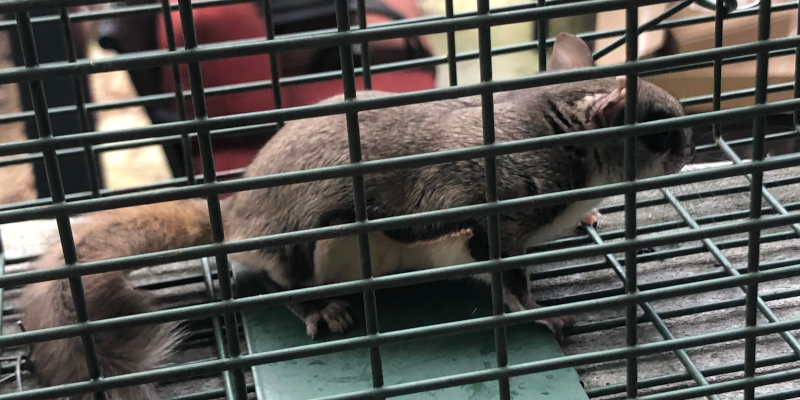 Animal Removal
Let us handle your animal removal safely and effectively.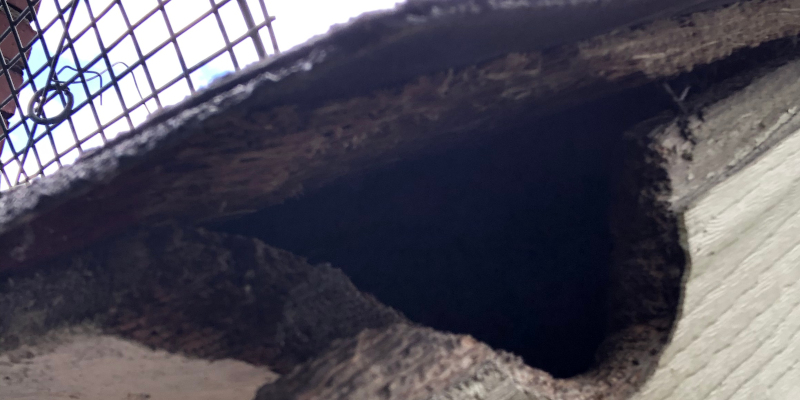 Damage Repair
If critters have left a trail of destruction behind them, we can help with our damage repair services.
Why Choose A-1 Wildlife Control?
Our mission since our founding has been the safe removal of destructive nuisance wildlife from residential homes, commercial businesses, structures, and agriculture with our four-step, biologically proven process. In addition, we professionally and cosmetically seal and repair any damage caused by the animal.
See what some of our satisfied clients are saying about our wildlife removal services.
Excellent and I highly recommend them. We trapped one squirrel and four possums. A-1 collected them promptly, and the company has now sealed off all areas where the critters could gain access to our home. Nathan, the sales rep, and Angela in the main office were great to work with.

David Lyon
03:44 15 Sep 23
Chris S - was very friendly and helpful - this company should be trusted ! Don't hesitate

Aldo Muccia
18:13 12 Jun 23
We had a raccoon infestation in our attic. After reaching out to many companies we went with A1. They came out and gave us a couple quotes and fixed our roof that the raccoons decided to rip apart. Service also comes with warranty. Chris was very professional and responsive! Would definitely recommend.

I was very impressed how Chris from A-1 Wildlife Control removed from my crawlspace 2 black rat snakes, plus the extra snake skin laying about. Chris conducted an inspection of the crawlspace and exterior to determine how the snakes, and mice (their food source), are most likely finding their way in. Chris discussed preventative measures I should take or have A-1 Wildlife handle. A comprehensive quote was prepared and emailed to me. I will probably have A-1 Wildlife Control do at least some of the work. Thanks Chris Shomo!

Cheryl Dundon
15:43 27 Mar 23
Took the time to identify problem areas around the house and describe the work needed to help prevent problems in the future. Very thorough and professional.

We are amazed how wonderful A-1 Wildlife Control is. We spoke with Angela on a Monday morning at 9am and she patiently answered all the questions we had related to relocating a snake we saw in our backyard. The front office experience was great and we were told that their team member Chris Shomo would be at our place the following day.Chris Shomo called 30 minutes in advace, confirmed our appointment and discussed what the issue was. As a family who had not had any first time encounter with snake, we were fear driven. Chris was courteous, patient and was willing to impart knowledge. Chris took care of the snakes situation professionally in no time and explained their pricing policy.I am glad to have found this company and for the past positive reviews. We highly recommend A-1 Wildlife Control and their services to our neighbhors and friends.

Kalyan Chandra Chintalapati
16:06 23 Aug 22
Justin was great and got the job done in just under an hour! He removed a bird's nest from our center and covered 2 vents on the side of our townhouse. Super efficient and effective!

Alicia Soto
16:29 07 May 22
We had birds living in our dryer vent that we could literally hear scratching in our walls. Chris Shomo came out and did an amazing job! He removed the nests and cleaned up after himself. Super kind and thorough. Thank you!!

Allison Mitchell
02:09 30 Mar 22
A huge thank you to A-1 Wildlife! They recently came to our home and performed an inspection of our crawlspace and other areas. Our first technician Chris noticed that our garage had slight openings on both ends and sealed this up for us to keep any potential critters out. He also noticed that our crawlspace door needed sealing. That's when Nathan and team came out and fixed our crawlspace door. These guys are super professional, on-time and highly knowledgeable. I am grateful for their service - thanks guys!!

Alexandria Leak
02:10 24 Nov 21
Professional, courteous, thorough and effective. Would recommend.

nancy ramdin
17:23 05 Nov 21
Chris was polite, called to arrange to come earlier at my convenience. He thoroughly inspected attic, roof, basement vents and eaves. Found signs of raccoon "play" on roof, but no entry points. A1 sealed holes, installed metal band around roof edges, and guards on vents 2 years ago. This proves they have been able to keep critters out!

Corine Bockenek
15:37 06 Aug 21
Chris did a great job. Very reasonable on their price and very professional service.

Chris Shomo was quick, detailed, and honest with his work. He was on time and gave me a prompt 30 minute heads up before he arrived. Good quality work.

Lucas Beatty
15:49 26 Apr 21
Responsive and took care of the nesting birds in our dryer vent. Chris S. was friendly and informative. He made sure the line was clear and put a cover in place to prevent further issues. He also made sure to check around the house for other potential issues. Thanks.

Mike Romot
11:07 01 Apr 21
We purchased a newer home in the Matthews, NC area and recently had a raccoon dig it's way into the soffit on our roof and gave birth to 3 babies in our attic. My wife and I had no way to get this done on our own. The roof is only accessible with a two story ladder and the area in the attic was inaccessible after tries from several family members and friends. We called all over. A1 was the fastest response for the best price BY FAR! Chris Shomo arrived the day after we called and set a trap on the roof. That very night they caught the mother raccoon. We then realized the whining from one of the rooms in our home which we presumed were the babies. Chris came the very next day and got into the tightest parts in our attic that we were pretty sure we're inaccessible to get the baby raccoons. This is hands down the best experience I could've asked for at an affordable price. We thought we were helpless. Hopefully this was a once in a lifetime experience, but this is the obvious choice for any related job in the future!

Jonathan Colyn
16:53 26 Mar 21
Chris did a great job! Highly recommend this company for any issues related to rodents and they did a great job for us a few years ago by installing guards over the vents to prevent birds from coming into the attic.

Paul & Stephanie Gibson
22:47 10 Feb 21
Chris and his team are amazing, very knowledgeable and responsive to the needs of the customer! I highly recommend!

Dr. Tommy Watson
15:43 05 Feb 21
I was very pleased with A-1 Wildlife Control today (2/2/21)! Chris Shomo was our wildlife specialist. He came within the time block and called before arriving as a heads up. He initially communicated with my husband, Andrew, but then I (Lisa) took over the appointment with Chris. Chris was respectful and provided time in re-explaining the issue, which was mice, to me and answered all my questions (no matter how "silly") patiently. He was knowledgeable and explained how he came to the conclusion of mice being our issue. He was very considerate in honestly informing me of the severity of the problem versus using a blanket statement nonspecific to our home. He also informed me of his next steps and quotes in order to keep the mice out. I felt heard, respected, and understood regarding our exact issue. I would definitely call A-1 Wildlife Control again in the future with any other problems.

Andrew Mitchell
16:36 02 Feb 21
Chris S was our specialist and he was great to work with. Very knowledgeable and timely.

Kendall Smith
19:36 29 Jan 21
Chris Shomo from A-1 Wildlife Control is very knowledgeable. Did a great job! Thank you.

Andy McCullen
20:45 06 Jan 21
A-1 helped us out last year with squirrels in our attic. We were afraid they had returned this fall. Chris from A-1 came to inspect the home. He spent an hour reviewing the entire roof from the outside and also the attic inside. He was very thorough, professional and knowledgeable. We have been very please with Chris and A-1.

Sean Mulligan
15:37 17 Nov 20
Chris with PCA was excellent. Very professional and knowledgeable. I would definitely use PCA again.

Chris Henrickson
14:36 07 Oct 20
I had the opportunity to work with Nathan W at A-1 Wildlife, concerning an issue that we had at our home. Everyone at A-1 were responsive and prompt for each and every service call. I appreciate the professionalism and service that I received throughout this process. I would recommend them if you should have any rodent or wildlife issues.

Bryan Sinclair
15:48 21 Sep 20
We had an excellent experience using A-1 Wildlife for bat removal. Hearing that you have bats in your attic is both gross and daunting... but A1 streamlined the process to make everything as stress-free and easy from start (assessment) to finish (final clean up)! Every employee who we have met that helped in the process was professional, courteous, and knowledgeable - they also took the time to explain why/what they were doing when I had 500 questions. Thank you to everyone at A-1! 🙂

Christine Hagan
03:51 21 Aug 20
We had a great experience with Chris today! He did a very thorough inspection and I would highly recommend A-1. Great customer service and very professional.

Laura Potts
00:55 02 Jul 20
Called A-1 due to bats in the attic. Philip came and did and exterior inspection and provided a quote to completely seal the attic and provide a way for the bats to leave and not come back. Tristian completed this in a very professional manner. Highly recommended.

Kenny Reid
14:54 12 Jun 20
We have evidence of Bats. Chris came out and inspected the house and explained how/where they hide. He helped us button up a vent! Good guy, good company.

Jack Bloodgood
14:46 02 Jun 20
Great explanations of services and very professional

Glenn Hays
13:58 14 May 20
We discovered a problem with squirrels that had chewed through a portion of the front of our roof. We called several companies for a quote and A1 Wildlife stood out as the one that was not only upfront and open with what we did and didn't need, they actively worked to make sure that we only paid for what we really needed. Phil came out to set up traps and actually trapped one of the squirrels in the first 10 minutes! It was instant relief to see the squirrels gone so quickly. Then Shawn and Nathan came out multiple times to work on our roof and shelves to make sure everything was squirrel-proof. They even went the extra mile, fixing a couple things that they found which were broken while they were working around the roof. If you have a wildlife problem, I can't recommend them enough.

Andy Grindstaff
19:51 03 Apr 20
These guys were fantastic, I first met with Chris to discuss removing some opossums from our yard. He was always on time, professional and explained everything to me. After the opossums were removed Chris suggested putting up a small lattice fence. This is where we met Shawn, he was professional, great to talk to and even stayed very late on a Saturday in order to complete the job. If we ever have a problem again I will call these guys right away.

Eric Garvey
19:06 29 Mar 20
Chris was able to come out the next day, and he quickly determined the issue we were having and took care of it (bird building nest in vent). I definitely recommend.

Eric Sutton
01:34 18 Mar 20
Having a flying squirrel problem in your attic is NO fun! Thank goodness for A-1Wildlife Control! From the first phone call to the last, I received prompt attention. I was completely pleased with Phil, Shawn, and Nathan who handled the evaluation, set up, squirrel removal, and home repair. These men were always on time and conducted business professionally and were patient with my questions.I highly recommend this company for animal removal and home repair!

Cassandra McQueen
19:41 10 Mar 20
Chris been great about helping us deal with what is likely birds using the exhaust vents to nest in our walls of the house. He's been out twice to help and always makes sure I know I can contact him directly if I have any future concerns.

Service was great and efficient! Chris found the dead squirrel in the attic and showed us where and how other animals could get in under crawl space etc. glad we called A1 wildlife

damian smith
19:44 02 Mar 20
Wildlife removal makes for some great photo ops!