When we perform raccoon removal, we use a proven four-step process.
Although raccoons look cute from afar with their dark eyes and fluffy fur, they can be quite dangerous. If you spot raccoons on your property, or worse, in your living space, it's important to avoid interacting with them. These animals grow to about the size of or larger than a house cat and are stocky and strong. If they feel threatened, they will use their sharp teeth and claws to attack humans or other animals. Raccoons can also carry rabies, which is spread through their bite, and a parasite called raccoon roundworm in their waste. They're also known to cause structural damage by burrowing and making nests when they take up residence in homes and businesses.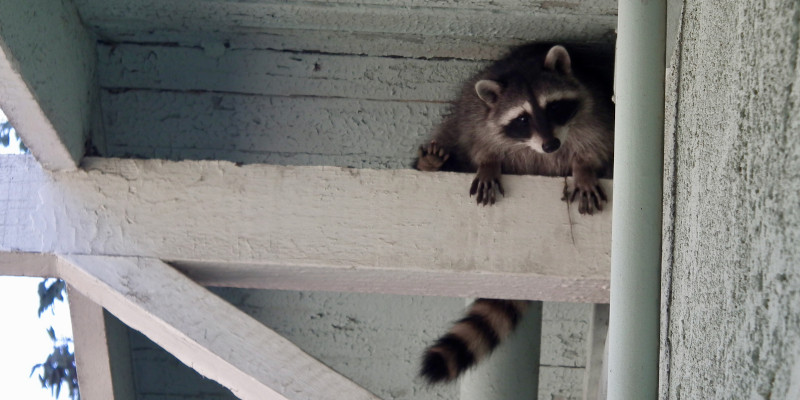 It's not always easy to know when a raccoon is in your residential or commercial structure. These animals try to stay out of sight, so they'll often make nests in attics, basements, crawlspaces, and other less-accessed areas. You might hear scratching or squeaking, or you could notice signs of damage in your space. At the first sign of a raccoon, contact us at A-1 Wildlife Control to perform professional raccoon removal service. We offer wildlife removal services to residential and commercial clients located throughout Belmont, North Carolina.
When we perform raccoon removal, we use a proven four-step process. We start by assessing the structure and property for signs of animal life, and then we will look for access points where animals can get into the home or business. After removing the animal, we can then seal off any access points and repair any damage caused by the raccoon. You can always count on us to take care of these bothersome critters with proven raccoon removal service.
---
At A-1 Wildlife Control, we offer raccoon removal services for customers in Charlotte, Matthews, Dallas, Mint Hill, Huntersville, Indian Trail, Cornelius, Concord, Gastonia, Kannapolis, Monroe, Belmont, Kings Mountain, Pineville, Waxhaw, and Midland, North Carolina and Clover, Fort Mill, Tega Cay, Chester, Lancaster, York, and Rock Hill, South Carolina.